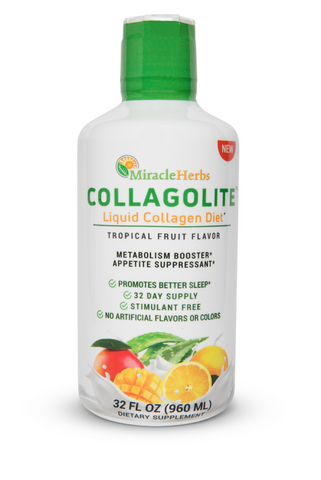 COLLAGOLITE ™
COLLAGOLITE - Watch your fat melt away as you achieve all of your weight loss goals.  The best way to track your weight loss results with Collagolite is not with a scale but with a measuring tape.  You may lose inches in the waist, hips and stomach areas while noticing enhanced definition of your muscles.  
Individual results may vary.  It is recommended to take this product for a minimum of 90 days to see optimum results. This product does not contain any caffeine or stimulants.

COLLAGOLITE SUGGESTED USE: As a Dietary Supplement, take 2 tablespoons on an empty stomach 3 hours after your last meal, before bedtime.  For best results take with 6-8 oz of water.  (See bottle for specifics)
WARNING: If pregnant, nursing, or on medication, consult with your healthcare practitioner prior to use.  Keep out of reach of children.  Do not use if safety seal is broken.
Disclaimer:
These statements have not been evaluated by the FDA. These products are not intended to diagnose, treat, cure, or prevent any disease.
---
We Also Recommend
---